This article was originally published on KISSmetrics
Although the concept only appeared a few years ago, everyone today knows what an "influencer" is. They are experts within a specific community who endorse or review products, software, or even thoughts within their field of expertise. Others in the community look to them when making their own purchasing choices.
Influencers yield a lot of power. If you can get an influencer to endorse your product or brand, you can tap into the audience at the influencer's disposal, which may be far more vast than your own following.
Influencer marketing, then, is the field of marketing in which influencers are paid (via cash or other incentives) to promote a brand or product. Let's explore how you can create this type of campaign.
Part 1: What Is an Influencer?
Now that word of mouth recommendations and criticisms spread through social media faster than fire in a dry field, influencers are more important than ever. They usually huge followings on social media and are brand advocates as well as niche promoters.
True influence drives action, not just awareness.

Jay Baer
It's not enough to find any influencer with clout, however; if you want to run an influencer marketing campaign, you need to find someone who is known in your industry. If they aren't a contextual fit, their post or tweet could be completely ineffective at driving leads.
Why Does Your Brand Need Influencers?
Consumers trust recommendations from a third party more often than a brand itself.
It makes sense if you think about it in a more personal context; you don't usually trust a person at a cocktail party who comes up to you and brags about himself or herself and spouts fun facts about his or her personality to convince you to be a friend. Instead, you often believe your mutual friend who vouches for that person.
An influencer is the mutual friend connecting your brand with your target consumers.
When you align with an influencer, not only do they bring their audience, but they also bring their audience's network as well. Because of the loyalty of their audience, an influencer has the ability to drive traffic to your site, increase your social media exposure, and flat-out sell your product through their recommendation or story about their experience.
With the fall of traditional outbound marketing, influencer marketing is becoming one of the most effective ways to attract customers and clients. Modern-day consumers are blind to billboards and deaf to commercials. They are self-sufficient and want to research a brand on their own and hear about it from someone they trust.
How do influencers assist with your inbound marketing? They are generate content about your brand, they recommend your brand to their loyal following, and they insert themselves into conversations surrounding your brand. Getting them on your side before your competitor does can make a huge difference in the success (or lack thereof) of your company or product.
Think About the Audience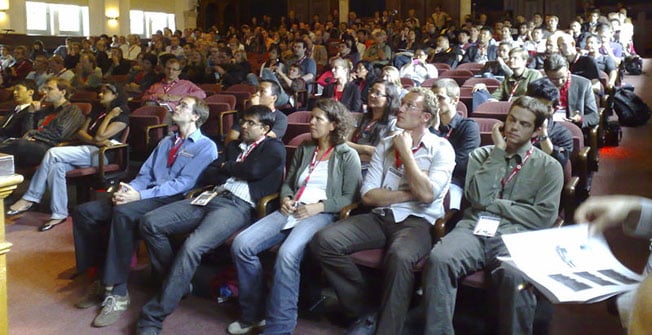 As a marketer, you already have a solid idea of the audience you should be targeting for your brand. To locate the ideal influencer, you need to take it one step further and think about the types of topics, blogs, and twitter handles that your audience would follow.
Since I market a blogger outreach tool for my company, the influencers that I've targeted are PR and marketing blogs that emphasize content and influencer marketing. Followers of these blogs usually are PR professionals and marketers who want to keep up with the latest technology and trends in their field.
Thus, hopefully, they find my company relevant when a blogger they follow recommends it. However, had I gone after bloggers who write about finance, even though a particular blogger might like my software, their audience most likely wouldn't care.
Who Uses Influencer Marketing?
While it seems that some companies don't want to let go of their outbound marketing practices, fashion ecommerce sites are targeting influencers like pros. Many are reaching out to reputable fashion bloggers and sending them clothing and accessory items to be reviewed. The blogger then posts photos and writes about the garments, often linking back to the site where their audience can buy the items being reviewed.