This article was originally published on KISSmetrics
Launching a new Google Ads search campaign is an exhilarating process. Excitement, anxiety, fear, and hope are emotions that come to mind when I'm about to click the Enable button on a new campaign.
If you are just getting started, you might be afraid of messing it up. I get it. The steps I'll walk you through will ensure you're depositing more money into your own bank account, rather than just funding Google's empire.
When set up and managed properly, Google Ads (previously Google Adwords) is one of the best sources for new customers.
Over the years, I have helped businesses grow from $0 to $1,000,000+ on the back of hardworking AdWords campaigns. But, I've also watched tens of thousands of dollars get flushed down the AdWords drain due to mismanaged campaigns.
So let's get down to it. Tie on your AdWords apron, grab a pen to write down the key steps of a successful Google Ads Campaign, and follow along as I walk you through how to create a profitable Google AdWords campaign from scratch.
Google Adwords Step #1: Is There Customer Demand?
If your customers are not searching for your product or service in Google, then obviously, AdWords search advertising is not going to work for you.
So, before you get too excited about creating your first campaign, you need to verify there is, in fact, search volume for what you're going to offer.
I suggest using UberSuggest, which is my own free keyword research tool. The keyword tool acts much like a thesaurus. You enter in phrases you think your prospects are searching, and it will tell you other similar, relevant phrases.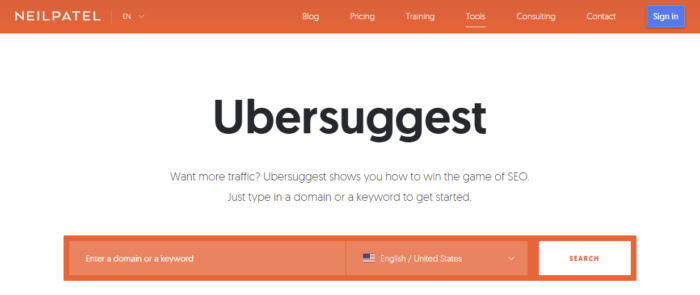 Ubersuggest will tell you how often people search these phrases, how competitive the keywords, and how much it'll cost to advertise on each keyword. All of this information will help you determine which keywords you want to use in your first campaign.
I also recommend you use the keyword "Suggestions" provided under the main chart. This will give you an idea of related keywords and how much search volume those keywords have.
You can also use Google's Keyword Planner tool to help you find the best keywords to target. It will provide you with bid estimates and total searches, so you can make a plan.
There are three questions you're going to ask to determine whether or not to advertise on a particular keyword:
Is the keyword searched in Google? If there is no search volume, then that tells you no one is typing that phrase into Google. There is no point in advertising on keywords no one is searching.
Is the person searching this keyword likely to buy my product or service? Or is the person more likely just doing research with no intention of making a purchase? In other words, what is the intent of the keyword? When starting out, you'll want to advertise on what I call "buying intent" keywords where the person is clearly looking to buy.
Can I afford to advertise on the keyword? This question is important, but it requires a bit of math to calculate. So let's take a look at that now.
Google Adwords Step #2: Can You Afford to Advertise on Top Keywords?
Before finalizing your keyword list, you must make sure it makes sense to target that term. This will prevent you from going after keywords where there's no chance of them being profitable. It's better to run these numbers now before you've sunk time and money into a campaign destined to fail.
To answer the question "Can I afford to advertise on this keyword?" you need to calculate your maximum cost per click (Max CPC). You'll compare your business's Max CPC to the estimated keyword CPC in the Keyword Tool to see if you can afford to advertise.
For example, if your Max CPC is $5 and the estimated CPC is $4, then you know there's a good chance you can profitably advertise on that particular keyword.
Your Max CPC is determined by your website's conversion rate, profit per customer, and target advertising profit margin. If you don't know these numbers, you'll need to guesstimate or set up tracking to calculate them more accurately.
Use the formula below to calculate your Max CPC and then compare to the estimated CPC you found above:
Max CPC = (profit per customer) x (1 – profit margin) x (website conversion rate)
For example, let's say your average profit per customer is $500, and out of 1,000 website visitors, you convert 10 into customers. That means you have a 1 percent website conversion rate.
If you are comfortable with a 30 percent profit margin, then here's how you would calculate your Max CPC:
Max CPC = $500 x (1 – 0.30) x 1% = $3.50
Again, your Max CPC must be in the neighborhood of the estimated CPC in Google's Keyword Planner tool, or else you're in trouble.
Suppose your Max CPC is $3.50 and the estimated CPC for a keyword is $10. In that case, you'll need to first increase either your profit per customer or your conversion rate before you can profitably advertise on that particular keyword.
Google Adwords Step #3: Perform Competitor Analysis
At this point, you now have a list of "buying intent" keywords that you're confident you can afford. The next step is to reduce your risk by leveraging competitor intelligence.
In most industries, you'll find competitors who already have tested and optimized their AdWords campaigns. That means they have figured out which keywords, ads, and landing pages work and do not work in your market.
Wouldn't it be great if you could just hack into your competitor's AdWords accounts and steal that information?
Before you get too far along on your illegal hacking plot, I should let you know about a very cool competitive intelligence tool called KeywordSpy. KeywordSpy collects, organizes, and provides easy access to all of your competitors' historical advertising information.
Think of it like your own Delorean time machine!
To set up your account, go to www.KeywordSpy.com and click on the free trial button.
Once you're signed up and logged in, then copy one of your competitor domains into the search bar and select the Domains option as shown below.
(To find your competitors, simply type your keywords into Google and then copy the advertiser domains.)