This article was originally published on KISSmetrics
Your SEO company could be hurting your business.
I know a lot of small businesses who have placed their trust in an SEO agency, only to have their sites all but destroyed through black hat techniques. I've seen struggling online startups spend thousands of dollars trying to "skyrocket in the rankings," and then realize they've been scammed.
I don't want that to happen to you. I don't want you to waste your money or ruin your site. I wrote this article to help you figure out if your SEO agency is doing good or doing harm.
I've organized the article into three parts. First, I'll explain how to know if they're hurting you. Second, I'll explain how to know if they're truly helping you.
Finally, I'll explain a few things that will help you work with an SEO agency in a profitable way.
Your SEO Agency Is Hurting You: Signs They're Doing It Wrong
So you hire an SEO agency. Now what? Should you trust them with all things SEO, expecting your rankings to rise as they work their SEO magic?
No.
Instead, you should find out exactly what they're doing, especially during the first few months of the contract. The earlier you can find out what they're doing, the better chance you have of determining whether they are helping or harming your site.
Here are the warning signs that your SEO agency could be a problem.
1. They Have Nothing to Show
Your SEO agency should have something to show you. I'm not talking about results or a rise in rankings. Instead, the agency should be able to show you the actual SEO practices they are using.
Two, three, or even four months into a contract might be too early for significant SEO results, so don't sweat it if you're not seeing the top results you were hoping for.
However, your SEO agency should be doing something with the money that you give them. You have a right to ask for deliverables.
Here are some of the things that an SEO agency might be able to provide in the first few weeks or months of a contract:
an analysis of your site's link profile
optimized content on your site
articles with links to your site that are being or have been published on other sites
This is just a sampling. Whatever the case, you should make sure that they are actually doing something, and have proof of it.
2. They Don't Ask You for Anything
An SEO agency that's doing good stuff is going to need your help. You're the site owner, so they might ask you for the following:
editor or admin access to your CMS
view or admin access to Google Analytics
access to Google Webmaster Tools
access to social accounts
a list of target keywords
past audits/penalties/work
If they don't ask for anything, it could be that they're merely adding linkbacks from their vast network of spammy sites. They don't need access, and there's a chance they are performing potentially harmful actions.
3. They Have No Suggestions For Improvements
If an SEO agency is not asking you or telling you to do certain things, it's a sign that they are up to something suspicious — either that, or doing nothing at all.
Disreputable SEOs often just point a bunch of linkbacks to your site. They are hoping that their low efforts will yield high results. They're not interested in interfacing with you, their client. Instead, they just want to give you something that will make you think that you're getting a benefit.
The best SEO agencies view their relationship with you as a partnership. To be successful, you'll have to work with them. That means they will make recommendations. I'll tell you what kind of recommendations later on in this article.
If you're curious as to what your SEO is doing — and you should be — ask them.
"So, what it is exactly that you guys are doing?"
Any of these responses are glaring scam signals:
"As an SEO firm, our efforts on your behalf must remain confidential."
"Due to the nature of the industry, we're not permitted to disclose our practices."
"Well, we do a variety of things, but it involves basically optimizing your site for search engines."
"Oh, tons of things. It would take me too long to explain."
"I'm not sure exactly, but I'll get back with you."
If you get an answer like that, I recommend firing the SEO company as fast as you can. True SEO involves white hat practices that are accepted as legitimate and are proven to get results. If your agency is doing those things, they should be able to explain them.
If they can't, you've invested in a scam. Tell them to go away.
5. You Get a Manual Penalty
A manual penalty is one of the worst things that can happen to your site.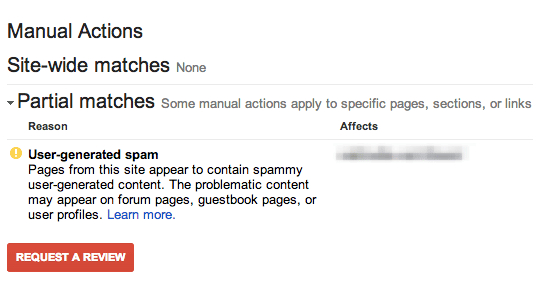 You'll know if you receive a manual penalty if you get a GWT notification or an email message.
If you receive a manual penalty one or two months after commencing work with an SEO agency, you have a right to be suspicious.
Obviously, you don't want to fire them right away. Just because you got a manual penalty doesn't mean it's their fault. But it might be.
You need to do some careful thinking and close questioning to find out exactly why your site was penalized and what to do about it.
6. Your Rankings Drop
Rankings drop for a variety of reasons, and it might not have anything to do with your SEO company.
I recommend that you keep an eye on your rankings (but not obsess over it). If you notice that your rankings are steadily declining, then your SEO might be performing actions that are getting your site penalized.
You need to find out what the agency is doing. If it sounds, looks, feels, or smells suspicious, get them get them to stop.
7. Your Traffic Drops
A sudden traffic drop, like a rank loss, could be the sign of an algorithmic penalty.
This is a bad thing.

It may or may not be your SEO's fault. The cautious response is to be suspicious, and start asking questions.
First, find out if there have been any algorithm changes that coincided with the traffic decline. Second, determine exactly what changes were made to your site in the days and weeks leading up to the decline. Finally, get an accurate picture of what offsite actions were taken by your SEO agency.
8. You Start Ranking for the Wrong Keywords
You should already know what your target keywords are. In addition, you should have an idea, based on Google Analytics, of how your longtail keywords are driving traffic and/or ranking in the SERPs.
If your organic keywords change significantly, beware. If you begin gaining traffic from the wrong keywords, it's happening for a reason. Or, if you stop ranking for previously high-ranking keywords, this is also problematic.
Your goal in growing your traffic is to earn targeted traffic. If, for some reason, the traffic comes from arbitrary or suspicious queries, then it could a sign of indiscriminate and careless work by an SEO.
9. You See an Uptick in Suspicious Linkbacks to Your Website
One of the metrics that you need to watch is your link profile. Your link profile is like a sign that you wave to Google telling them, "Here's how to rank me!"
If your link profile gets messed up, your site is in trouble.
How does a link profile get messed up? It gets messed up when your site receives too many questionable linkbacks from spammy or suspicious sites.
Here's a random example: