This article was originally published on KISSmetrics
When you think about search engine optimization, there's a good chance that Google is the only search engine that comes to mind.
This assumption is a huge mistake, as the DuckDuckGo search engine has continued to gain in popularity with each passing year.
Google is just a part of the SEO puzzle. If you are only focusing on what Google wants, you could be missing a large portion of the search market who use other search engines, like DuckDuckGo and Bing.
"But," you think, "isn't SEO the same no matter what search engine you're dealing with?"
Not quite.
Here's why alternative search engines like DuckDuckGo are worth your time, and what to do if you want to rank outside of Google.
Are Alternative Search Engines like DuckDuckGo Worth the Effort?
Yes, Google is the most significant player when it comes to search engines. According to Statista, Google has a whopping 86% of the search engine market share.
But why trust only one platform when it comes to your business?
When you're dependent on just one platform, you risk isolating some of your audience. That could put your entire business at risk.
Let's say you've built your entire SEO strategy on Google and Google alone. What happens if a tiny change in the algorithm (which happens all the time) moves your site down in the rankings?
Your business could be in jeopardy.
But if you've optimized your site for alternative search engines, you're in much better shape.
I've talked at length about different ways to drive web traffic that don't focus on search engines, and I'd recommend them wholeheartedly when it comes to your strategy.
But there are also a few ways to adjust your SEO strategy to rank well in the DuckDuckGo search engine.
What is the DuckDuckGo Search Engine?
In a digital world where your searches often play directly into your targeted ads, it's no surprise people are starting to realize how much their search history affects their privacy.
DuckDuckGo is a privacy-focused search engine that doesn't track you, integrate with your social media, store your information, or use your search history to target you with ads.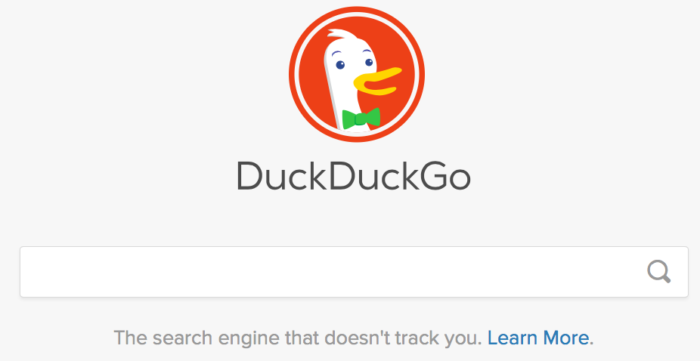 Essentially, the technology behind DuckDuckGo delivers search results while blocking the trackers other search engines (like Google) use.
You can install an extension on your browser (even Chrome), search directly from the DuckDuckGo website, or use their privacy browser app search without being tracked.
As their privacy policy will tell you, DuckDuckGo never stores personal information. Instead of gathering data to inform purchases, it's all about a simple search experience.
DuckDuckGo also aims to get you out of so-called filter bubbles, which can tailor your web search experience based on things like personal preferences and political leanings.
Who Uses DuckDuckGo?
Since DuckDuckGo doesn't track or gather information about users, it's tough to find data about who, exactly, uses the search engine.
In general, DuckDuckGo users are security conscious and interested in tech news and software. They tend to spend an average of 9.5 minutes on sites and have a much lower bounce rate.
This time indicates that, for some sites, DuckDuckGo may attract higher quality searchers.
Why Should You Care About DuckDuckGo SEO?
When it comes to search engines, several inspire name recognition. From Google to Yahoo to Bing, search engines tend to be a matter of personal user preference.
With 1.75% of the market share, DuckDuckGo is not as well known or used as Google.
But at the same time, 1.75% of the market share is still a large number of users. In comparison, the highly recognizable Yahoo brand holds just 3.41% of the market share. MSN, a huge deal in the past, is now ranking way below DuckDuckGo with just 0.11% of the market share.
So while DuckDuckGo isn't one of the top search engines, it shouldn't be discounted, either.
Since DuckDuckGo's biggest pull is that it doesn't track users, the site itself says that they're unsure how many users they have.
However, they do track search queries and reportedly see more than 56 million searches a day, and that number has been growing fast in recent years.
As mentioned above, those searchers also tend to stay on sites longer and have a lower bounce rate.
That means taking just a few steps to optimize for DuckDuckGo has the potential to attract millions of high-quality searchers.
DuckDuckGo vs. Google Search Engines
The major difference between the two search engines is that Google keeps track of things like IP addresses and search history, while DuckDuckGo doesn't.
However, there are a couple of other things to keep in mind when it comes to differences between the two search engines (and they can affect how you'll want to tailor your content for ranking).
Search engine ads: Google tailors ads based on your search history, while DuckDuckGo tailors ads based on the results you're currently viewing.
User experience: Google and DuckDuckGo aren't all that different when it comes to the user experience, as they'll both pull up websites, images, maps, news, and video results when you search.
Search results: Both search engines pull results from various players, but Google has been in the game longer, and it tends to show. DuckDuckGo still pulls quality results, but they're less intuitive than those from Google.
DuckDuckGo also puts a ton of emphasis on their ability to break past the filter bubble used by search engines like Google.
This focus means their results are based on what you're searching right now, not what you've looked at in the past, possibly resulting in more accurate results for your current intent.
Doesn't Google Incognito Follow the Same Principles?
While you might think that Google Incognito is similar to DuckDuckGo, it really isn't.
With Google Incognito, all Google is doing is clearing your browser's search history. Even with Incognito turned on your device, your activity isn't necessarily private.
When you turn Google Incognito on, you'll see a disclaimer telling you that your work or school may still see your information.