This article was originally published on KISSmetrics
Disclosure: This content is reader-supported, which means if you click on some of our links that we may earn a commission.
If you are reading this post because your site's been hacked, download Sucuri now and get the company's help completely removing the problem. For everyone else, Wordfence is my top recommendation for most users to prevent an attack.
A security breach on your WordPress site can kill your business instantly. All the hard work you put into building your brand and customer trust is on the line.
How quickly will you be able to identify a problem and respond?
Using the best WordPress security plugins, you'll be able to prevent attacks from happening in the first place.
Bad actors will see that your site isn't worth the trouble, given how many unprotected WordPress sites are still out there.
Don't be one of those unprotected sites. Hacks can bleed your budget dry and destroy your company's reputation. If your visitors' information gets compromised, they have a good reason not to come back.
My WordPress sites are the lifeblood of my business. With seven-figure revenues on multiple sites, I know I'm a prime target.
I've got a lot of experience with WordPress security plugins. I want to share some of what I have learned so that you can make sure that your site, visitors, and reputation stay safe.
Here are the top WordPress security plugins and a short guide to help you find the right one for your site.
#1 – Sucuri Security — The Best for WordPress Developers
Sucuri Security helps companies protect websites of all kinds. Its WordPress security plugin is a good way to harden your site and prevent damaging attacks.
I don't recommend the free Sucuri plugin as a standalone solution. It doesn't come with access to a website firewall, which I consider a fundamental element of WordPress security.
If you are a web developer or an agency that sells or manages WordPress sites for their clients, the cost of paying for Sucuri is nothing compared to the benefits it delivers.
Sites experiencing crippling DDoS attacks have installed Sucuri and been fine within an hour. After getting hacked, WordPress administrators have reached out to Sucuri and had their site clean and running before the day is done.
These are just some of the common stories Sucuri users have shared.
If you are responsible for ensuring your clients' WordPress site protection, look no further than Sucuri. You'll be able to get an in-depth picture of exactly what's happening on each site and automated alerts if something goes wrong.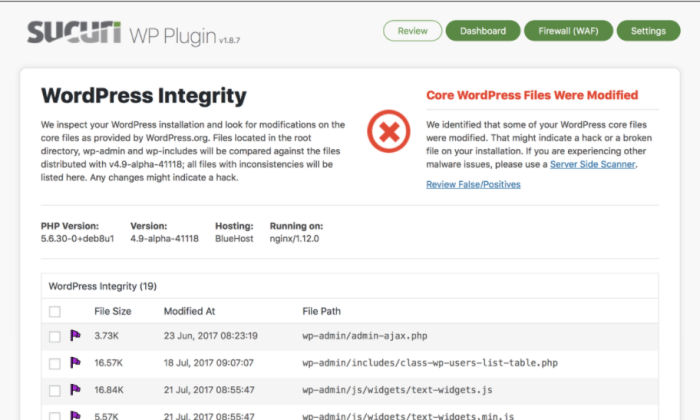 Sucuri is constantly scanning your sites for malware. Unlike Wordfence, Sucuri scans remotely (from their servers), so you are not drawing on your own resources for scans or loading up your database.
The other benefit of remote malware scanning is that all the data is safely stored with Sucuri, so attackers can't delete logs to cover their tracks. You will always know exactly what happened and how.
In the event that a site gets hacked, there's no better ally to have in your corner than Sucuri . There are zero hidden costs for complete malware removal.
Unless you're a fairly skilled software engineer, making sure a hack is 100% cleaned up is incredibly difficult. With Sucuri, it's guaranteed.
Like I said, you have to have a paid Sucuri license to access the firewall. The reason is that it's a best-in-breed product. Sucuri can't just give it away.
It automatically blocks all unencrypted traffic, DDoS attacks, bots, brute force attacks, password cracking, and malicious code. You also get fine-grained control over IP whitelisting to ensure that only appropriate users have access to admin panels.
You can also block visitors from certain countries. This can be very important if you notice a high number of attacks coming from a particular location.
There are some vulnerabilities with a cloud-based firewall, which is why Wordfence's endpoint firewall works so well. Sucuri solves this problem by including website server-side scanning.
This protects you from phishing pages, backdoors, spam and other types of attacks that won't get picked up by Sucuri's remote malware scanner.
The Sucuri Security plugin is free, but to take advantage of many of the features I just listed, you will need to get the full platform.
There are three tiers available:
Basic: $199/year per site
Pro: $299/year per site
Business: $499/year per site
The difference in tiers has more to do with how your service requests are prioritized.
Business-tier licenses include a malware removal SLA of six hours. If your client's site gets hacked in the dead of the night, it is guaranteed to be back up by the time everyone gets back to work.
With the other plans, you still get the complete malware removal, but it may take more time, depending on the complexity and severity of the attack.
All plans come with a secure 24/7 ticketing system for customer support and a 30-day money-back guarantee.
If you are looking for a free WordPress security plugin, I'd go with one of the other options on this list. But if you have clients that depend on you to manage their WordPress sites, paying $20-40 for the Sucuri platform is well worth the top-notch protection and peace of mind.
#2 – Jetpack — The Best for Improving Your Whole Site